Our dedication to top-quality service and installation not only shows in the work we do, but in the incredible feedback we get from our valued clients. Here is what they have to say about AR2 Design Studios.
Nothing Short of Exemplary
IDS Metals' glass railing and stairs project in the luxurious $5 million home is nothing short of exemplary. The flawless execution and meticulous attention to detail showcased by Shawn and his team are commendable. Notably, the absence of any criticism from inspectors speaks volumes about the exceptional craftsmanship and adherence to top-notch standards. The seamless integration of glass elements into the home's design enhances both its aesthetic appeal and safety, exemplifying IDS Metals' expertise in creating functional and visually stunning spaces. For any discerning homeowner or developer seeking excellence, this project serves as a glowing testament to IDS Metals' ability to deliver unparalleled results, making it an absolute pleasure to witness such a remarkable achievement in modern architecture and design.
Thanks,
I have worked with Shawn in multiple projects throughout my career as an architectural designer. Our 1st project together was in 2009. I was very satisfied with his work, so I have continued to work with IDS metals whenever I have a need for their products.
Shawn has great spatial understanding and fully interprets my vision on what I would like to achieve. His has a keen attention to detail at every stage of the project.  He is very easy to work with, making the process clear and simple.
His Installations Have Held Up Over Time
I highly recommend Shawn for his exceptional craftsmanship and expertise in creating custom stainless steel cable rails for our three expansive decks and two multistory staircases. Additionally, he skillfully incorporated glass walls into the design, further enhancing the aesthetic appeal of our space. Having collaborated with Shawn several years ago, we have been impressed with the longevity and durability of his work as evident in how well his installations have held up over time. Not only is Shawn a consummate professional, but he also possesses a keen sense of design. His ability to blend functionality with aesthetics resulted in an outstanding final product. Working with him was a pleasure due to his attention to detail, and overall commitment to excellence.
We are thrilled with our new railing! It is both beautiful and strong. Our neighbors and visitors have made many positive comments. Shawn helped us decide on the perfect design, and he personally measured our space. We were impressed with the highly skilled IDS Metals installation crew. We love our new railing, we know it will last for decades and look beautiful every day. We are pleased to recommend Shawn Afsharjavan and IDS Metals.
-Bob and Deb
Fairfax City, VA
Amazing work by IDS and Shawn! I had a quirky design and very small project. Shawn thought of all the details that I had not even considered. The stair railing need to match the inspiration for the the room and the details are what makes it perfect. On install day, the crew was clean, on time and super efficient! I'm looking for more metal projects so I can hire them again!!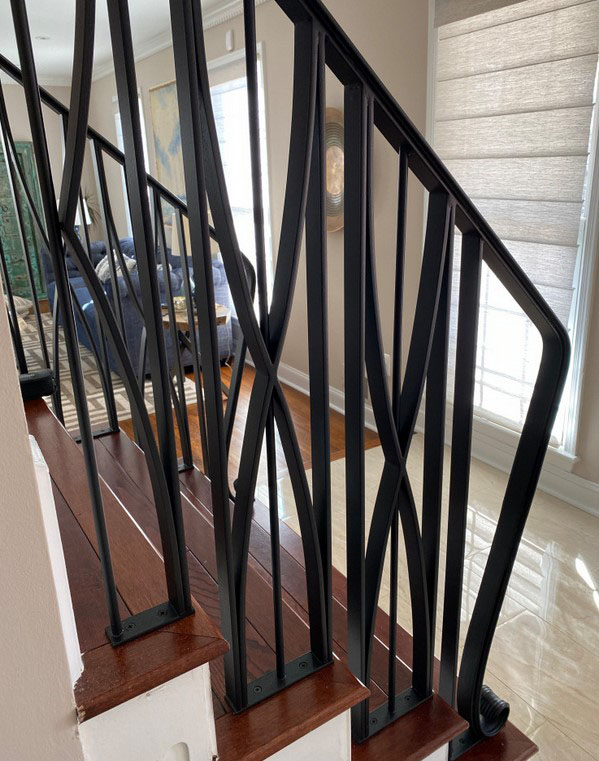 We are thrilled with the outcome of our steel cable and oak railing. From the beginning of the project, Shawn was informative, thorough, and accessible. His knowledge of his craft and ensuing designs were masterful, yet he was open to our suggestions, aiming to please where possible. Along with his artisan metal worker, Kenny, as well as several assistants…..we now have a unique, custom-made work of art gracing our hallway. We highly recommend IDS and would absolutely connect in the future.
Attention to Detail is Simply Unsurpassed
IDS Metals has worked on several projects in our home in Great Falls throughout the past 3 years. Shawn's designs, guidance, insight and dedicated attention to detail is simply unsurpassed in our experience. His staff are efficient and respectful and he is present for each installation. We look forward to more interactions as our renovations evolve in the future.
-Goga Smith
Great Falls, VA
We Absolutely Recommend This Company
We used IDS Metals to install glass and metal railing in our store in Georgetown. Although this was an extensive and difficult project we could not be more satisfied with the level of expertise and professionalism displayed by their team. The job was completed in a timely manner and on budget. More importantly it looks beautiful! We absolute recommend this company.
The Quality Of Work Is Impeccable
Shawn and his team installed cable and glass railings in my house. I initially wanted to install cable railings but Shawn suggested on one of the floors to install glass railings. I am very glad I followed his advice. It turned out to be the best options. Everything got installed in less than a day. Shawn led the work himself. He is very responsive and professional. The quality of work is impeccable.
Shawn was a pleasure to work with and a perfectionist with every detail! He offered additional ideas that enhanced our space even more!
-Jodi L.,  The Leigh Agency
Shawn is a pleasure to work with and does fantastic work! I researched for ages and interviewed multiple pros before I found him. In terms of knowledge and experience, no one else came close. His portfolio showed examples of exactly what I wanted. You can see before and after photos of my house under projects. I went from Brady Bunch stairs with brown shag carpet to beautiful steel monostringers with cable rail and glass. Now I'm ready for Architectural Digest!
The Highest Quality Service
Shawn ensured IDS delivered the highest quality service and was personally engaged every step of the way. The precision in the final product simply cannot be beat. We had new interior and exterior railings installed and it gave our home a fresh, new look. Well worth the investment!!!
IDS Metals removed the old wooden railings on all 3 floors of our townhouse, and replaced them with beautiful tempered glass. We got good professional guidance on how to achieve the aesthetic appearance we wanted. The installation was quick and the installers were friendly and efficient. They also matched the wood trim nicely to my existing flooring. I have since recommended the company to my neighbors.
IDS Metals removed the old wooden railings on all 3 floors of our townhouse, and replaced them with beautiful tempered glass. We got good professional guidance on how to achieve the aesthetic appearance we wanted. The installation was quick and the installers were friendly and efficient. They also matched the wood trim nicely to my existing flooring. I have since recommended the company to my neighbors.
I always get the best service- very thorough- has great ideas- gives me detailed drawings and we get exactly what is expect and more.
Simply outstanding! We built a custom home with intricate architectural steel work in Georgetown. I was extremely impressed with the quality and precision of work performed by IDS. I'm reminded of Shawn and the excellent job he performed on daily basis. I highly recommend him for high-end architectural steel work.
Excellent Customer Service
As an architect I worked with this company through one of my built project. In my experience, this company has my highest recommendation because of thier pricise, detial oriented and excellent job. They also are reliable and have outstanding level of professionalism and excellent customer service satisfactions.
Absolute Professional! I worked with AR2 designs last year to install my Stainless Steel and Glass Stair Rail. What a great experience from the estimate phase through delivery. The installation team was extremely diligent and the final product was beyond expectations. I would recommend this company to anyone who is serious about installing a modern hand rail design in their home.
Shawn and his company IDS Metals are very gifted craftsmen. They have a great design eye and are true artists. They care as much as we do about customer satisfaction and quality of the finished product. They work well with architects, builders and homeowners. I look forward to doing more projects with them in the future. Their work, due to its technical and complicated nature, is expensive to design and fabricate, but their pricing is very competitive when compared to other quality craftsmen. We highly recommend them for custom stairs and railings.
-Ballard + Mensua Architecture
Washington, DC
It was a joy to work with IDS Metals. I renovate lots of houses and can count on one hand the number of sub contractors that make my job that much easier. Shawn is one of those professionals that understood what I needed, listened, went away and created and made as many visits to problem solve that he needed to get the install right.
-Home Productions
Washington, DC
Off-The-Charts Phenomenal
We have been meaning to send you our deepest thanks for the rail you put in our new home in Bethesda. They are absolutely beautiful and give the whole house a new and fresh look. We appreciate your quick turnaround time! They look off-the-charts phenomenal! Thank you!
We'd Love To Hear From You
If you have something you'd like to say about AR2 based on your first-hand experience, we'd love to hear it. Please provide your message here.
Our clients are our biggest asset in expanding the reach of AR2 throughout Virginia, Maryland, and Washington D.C.